Best Hydra Facial Treatment
"Experience the ultimate rejuvenation with our premium HydraFacial treatment for radiant, glowing skin."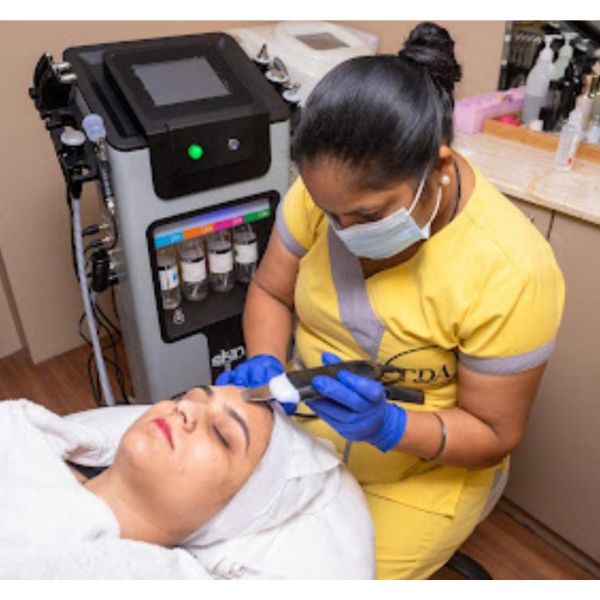 Best HydraFacial Treatment in Kharadi / Kalyani Nagar, Pune
Everyone aspires to have flawless skin that is free of scars and blemishes. Additionally, the skin-specific Hydrafacial can assist with it. It is a kind of dermabrasion treatment in Kharadi / Kalyani Nagar. that enhances your skin's cleanliness, exfoliation, and hydration. This procedure efficiently eliminates the risks associated with clogged pores and zits while keeping your skin clean and flawless.
Contact us if you live in Pune and desire flawless, blemish-free skin. Visit The Daily Aesthetic location closest to you in Kalyani Nagar or Kharadi City. Near to Viman Nagar, Kharadi, Yerawada, Hadapsar, Malwadi, Mundhwa, and Camp. People are now more aware of the best skin treatments in Pune and want to receive them from licensed dermatologists, which has made the Hydrafacial treatment in Hadapsar, Koregaon Park, Pune, quite popular in recent years.
A Hydra Facial is a skin treatment used at dermatology clinics and medical spas. Because it mixes moisturising serums with an exfoliation similar to microdermabrasion, it is sometimes known as "hydradermabrasion."
The three-step HydraFacial treatment in Hadapsar Pune is renowned for its ability to cleanse, exfoliate, and moisturise your skin deeply. This expert method might help treat several skin issues, including wrinkles, dryness, and acne.
Where in Pune is the closest place between Kalyani Nagar and Kharadi city to obtain the best Hydrafacial?
The Daily Aesthetics Skin Clinic in Kharadi / Kalyani Nagar, Pune, is a reputable non-drama clinic. Quite well-liked by locals for its top-notch service. Suppose you want to experience the best Hydra facial in Pune. For the desired outcomes, consult specialists. Our closest locations to you are Kalyani Nagar and Kharadi City. Drop by The Daily Aesthetic Clinic in Pune, Kalyani Nagar, or Kharadi City for a more in-depth discussion.
The 3 Steps In A HydraFacial Treatment in Pune
Are As Follows:
"Exfoliation is the removal of dead skin cells from the surface of the skin. "it has long been known to provide skin advantages, such as brightening the skin, unclogging pores, and promoting collagen formation with long-term use." All of this is accomplished with the HydraFacial tip.
The tip removes gunk from pores while also delivering topical moisturizers.
Your treatment will be completed with "boosters" or serums. These are tailored to your skin's specific needs, such as reducing the appearance of hyperpigmentation, fine lines and wrinkles, dull skin, or enlarged pores. Patients will appreciate that the treatment is completely customizable thanks to these "boost" serums.
The Geneo Super-Facial, a three-step facial that combines exfoliation and active topicals, is another option. Diamond Glow Dermalinfusion is another treatment that claims to exfoliate, extract, and infuse skin to make it look radiant and rejuvenated. The premise is similar in all of these — exfoliation and serum infusion — but the patented technology varies. Please inquire with your dermatologist or aesthetician about which treatments are best for you and which they provide.
Who Can't Have a HydraFacial and Why?
According to the firm, HydraFacial is suitable for all skin types. A HydraFacial should be avoided if you have an active rash, sunburn, moderate to severe acne, or rosacea. Pregnant people should especially avoid getting one.
You might need to make some adjustments to your regular skin-care routine before your consultation. For a few days prior to the procedure, we advise you to cease using prescription creams to prevent irritation.
How much does a HydraFacial cost in Pune?
Three sessions of Hydra facial treatment cost 15,930 INR. The Daily Aesthetics Clinic in Pune's Kalyani Nagar and Kharadi City.
The Hydrafacial vacuum equipment is extremely gentle on the skin and easily removes gunk, clogged dirt, and oil from the pores. It cleans out the pores and allows other creams and products applied to the skin to penetrate deeper.
Your skin will be moisturised and hydrated after the Hydrafacial. It also softens, plumps, and smooths it after the facial. Several people who got the treatment said they saw delayed signs of ageing on their skin, like fine lines and wrinkles.
Another advantage of Hydrafacial is that it firms and tightens your skin. It helps to tighten the pores, preventing them from accumulating all of the dirt and oils that contribute to the development of pimples and acne. It also improves the radiance of the skin and smoothes the texture.
Suitable for all skin types and tones
One of the most noticeable benefits of Hydra facial for the skin is that it is suitable for all skin types and tones. It is also appropriate for people of all ages. It not only treats pimples and acne scarring in teenagers, but it also treats hyperpigmentation in middle-aged patients and signs of aging in older people.
Even when you do it yourself, it guarantees constant results because it is not a therapy that depends on a professional.
There is no discomfort, no chance of scarring, and no long-term skin harm. It restores the skin's natural radiance and luster and is safe for all skin types because it incorporates chemical peeling and microdermabrasion techniques.
The professionals will specifically tailor the entire operation for you based on your skin type, type of skin texture, and the damage. Everything, from the chemical peel's composition to the moisturizers applied, is tailored precisely for your skin.
Perfect for sensitive skin
People with sensitive skin often avoid utilizing treatments or chemicals that are too harsh on their skin. The advantages of Hydra facial for skin also work on skin types with sensitive skin. The skin is cleansed using suction technology without
running the risk of skin injury or edema.
Meet Our Skin Specialist — Dr. Arshi Rahul
The Daily Aesthetics in Pune, led by the renowned Dr. Arshi Rahul, offers cutting-edge HydraFacial treatments to help you achieve radiant and rejuvenated skin. With a focus on providing top-notch cosmetic care, their team of experts uses this non-invasive and innovative procedure to cleanse, exfoliate, and hydrate your skin. Whether you want to address your specific skin concerns or enhance your beauty, The Daily Aesthetics is your destination for a pampering and transformative HydraFacial experience in Pune.
Why Choose The Daily Aesthetics clinic for HydraFacial treatment in Kharadi / Kalyani Nagar?
Here are some reasons why you should choose us for Hydra facial treatment in Pune Kalyani Nagar & Kharadi City.
* Highly experienced and passionate Skin Specialist in Pune for Hydra facial treatment.
* US-FDA-approved equipment and best treatment protocols
* Personalised patient care.
* Ongoing Support and Aftercare
We are at Kalyani Nagar as well as Hadapsar (Kharadi City) near Viman Nagar, Kharadi, Yerawada, Hadapsar, Malwadi, Mundhwa, and Camp. If you want to get Hydra facial treatment for yourself? looking for Hydra facial treatment in Pune or a skin specialist for Hydra facial treatment near me, then don't hesitate to contact us. For more information, you can call us at +91 96738 58066 / +91 97685 55421 Or walk into Kalyani Nagar & Kharadi City located clinic nearest you.
On laser hair reduction, Bridal treatment package, advanced Hydrafacial Ritual, Hollywood facial, PRP treatments, and Anti-ageing treatments. 
What Are You Waiting For...
We believe in a transparent costing procedure with no hidden charges.
Dr. Arshi is very polite and cooperative. She listens to your concerns and provide answers with explanations. The staff is also very friendly. Have been visiting TDA for 3 months now and the experience is wonderful.