"Effective dark circle treatment often involves a combination of skincare products, adequate sleep, and a healthy lifestyle."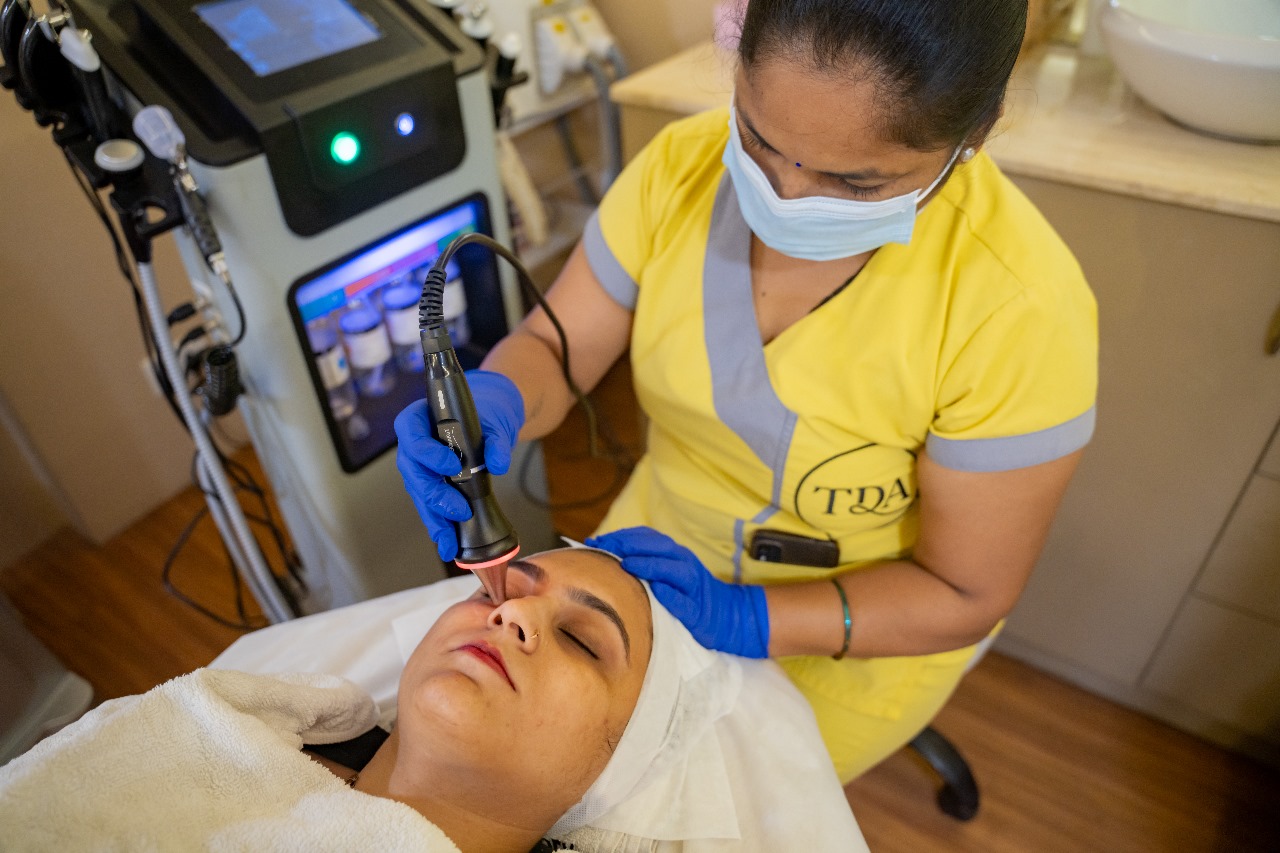 Dark Circle Treatment in Kharadi, Baner & Kalyani Nagar, Pune
Are you looking for the best treatment for dark circles in Kharadi, Kalyani Nagar, & Baner in Pune? Or are you looking for the best dermatologist in Pune or Pimpri-Chinchwad who is the best for dark circles treatment? They should be close to Kalyani Nagar, Baner, and Kharadi City.
Dark circles appear below the eyes in a half-moon shape. An unclear process is blood vessels located under your eyes and can be seen through your skin. There are many reasons for getting dark circles. It can be because of stress, hormonal changes, heredity, lack of sleep, etc. It can affect both men and women. Dark circles should be treated immediately; not only do they dull overall appearance, but they can also lead to severe issues at The Daily Aesthetics Clinic. We offer the best dark circle removal treatment.
Dark circles always make you appear fatigued, even if you do not reason your look. So, treat your under-eye process because your eyes are the most beautiful part of you. Makes you look more youthful, fresh, and confident. Try it. So, if you are searching for the best Under-eye dark circle removal treatment in Pune or Pimpri-Chinchwad, The Daily Aesthetics is your answer. At The Daily Aesthetics clinic, Our Dermatologists in Pune use Laser treatment to eliminate the under-eye dark circle.
Where can I get the best Dark Circle Treatment in Kalyani Nagar, Baner & Kharadi City in Pune?
You should go to The Daily Aesthetics Skin, Hair & Laser Clinic if you want the best treatment for dark circles in Kalyani Nagar,  Kharadi City, & Baner in Pune. TDA has successfully treated more than 3,000 people with dark circles to date.
Are under-eye circles a significant health issue? Not exactly, yet many people believe that having black circles under their eyes gives them a worn-out, aged, or unwell appearance. Many people believe that weariness and sleep deprivation are the causes of dark circles. There are other causes of dark under-eye circles than this one, such as allergies or the aging process.
Causes of Under-Eye Dark Circle
A deficiency of iron, haemoglobin, the red colour that conveys oxygen to cells, in individuals can influence the skin below the eye to appear a dark circle. If you are overstressed or overworked or don't sleep properly, then you are in the problem of getting dark circles.
Hormonal changes might affect the dark circles. Excessive rubbing can lead to increased swelling, inflammation, and broken blood vessels in the eye area, which causes dark circles under the eyes. 
If you are using makeup for darkening your eyelashes, that bugs your skin and could lead to worsened dark circles. Eyelid skin is the thinnest in our body. Because of heavy exposure of skin to the sun, sun damage shows up quickly in this area in the form of dark circles.
Treatment Options For under-Eye Dark Circles in
TDA Kharadi City, Kalyani Nagar & Baner
At The Daily Aesthetics Clinic, Under Eye Dark circles can be treated by various treatment options such as
Laser treatment
Under-eye dark circle treatment with laser helps attain lasting effects. Laser is basically a combination of peels and fillers to treat your dark circle.
Under Eye Peels
Under the eyes, peels are among the most common and effective for treating dark circles. Here hydroxy acid is used to lighten the dark and hyperpigmentation area under the eye.
Under Eye Mesotherapy
In this process, vitamins, and enzymes hormones are injected into the skin to get tight and revitalize your skin. Mesotherapy also helps to reduce the size of puffy and fatty bags around your eyes.
Platelet-rich Plasma (PRP)
A dose injection of PRP Platelet-rich plasma is injected around your eyes that helps repair the skin around the eyes. They help in blood vessel growth, make strong collagen, and give you a youthful look.
Micro-Needling
This treatment helps in generating new skin cells and removes dullness and darkness under the eyes.
Dark Circle treatment cost in Pune & Pimpri-Chinchwad (Kharadi City, Baner & Kalyani Nagar)
The cost of dark circle treatment varies from Rs.2500 to Rs.5000. The cost of laser treatment for dark circles in Pune & Pimpri-Chinchwad starts from Rs.2500 per session. Walk into TDA's nearest clinic at Kalyani Nagar,  Kharadi City & Baner City.
Why Choose The Daily Aesthetics clinic for Dark Circle Treatment In Pune & Pimpri-Chinchwad?
Here are some reasons why you should choose us for dark circle treatment in Pune & Pimpri-Chinchwad.
Highly experienced and passionate Skin Specialist in Pune for dark circle treatment.

US-FDA-approved equipment and best treatment protocols

Personalised patient care.

Ongoing Support and Aftercare
We are at Kalyani Nagar, Baner as well as Hadapsar (Kharadi City). We are also near Koregaon Park, Viman Nagar, Kharadi, Yerawada, Hadapsar, Malwadi, and Mundhwa. Compare where you may find us.
Do you want to get rid of the dark circles on your face? If you are looking for dark circle treatment in Pune or a skin specialist for dark circle treatment near me, then don't hesitate to contact us. For more information, you can call us at +91 96738 58066 / +91 97685 55421 Or walk into Kalyani Nagar, Kharadi & Baner City located clinic nearest you.
Meet Our Skin Specialist — Dr. Arshi Rahul
The Daily Aesthetics, under the expert guidance of Dr. Arshi Rahul, offers top-notch dark circle treatment in Pune. With a strong commitment to enhancing your natural beauty, Dr. Arshi Rahul specialized approach and state-of-the-art techniques ensure that your concerns are addressed with precision and care. Say goodbye to those bothersome dark circles and rejuvenate your look at The Daily Aesthetics in Pune.
Best Aesthetic Clinic In Pune
The Daily Aesthetics only uses high-end technology, ensuring our patients experience the least discomfort and receive the best possible results.
What Are You Waiting For...
We believe in a transparent costing procedure with no hidden charges.
I had a fantastic experience at The Daily Aesthetics! The staff was friendly, professional, and knowledgeable. The facility was clean and inviting. Dr. Vaishnavi provided great treatments tailored to my needs, and the results were wonderful. I highly recommend this place for anyone looking for great skin care services!