Tattoo Removal Treatment in Pune
"Experience the most advanced tattoo removal treatment in Pune"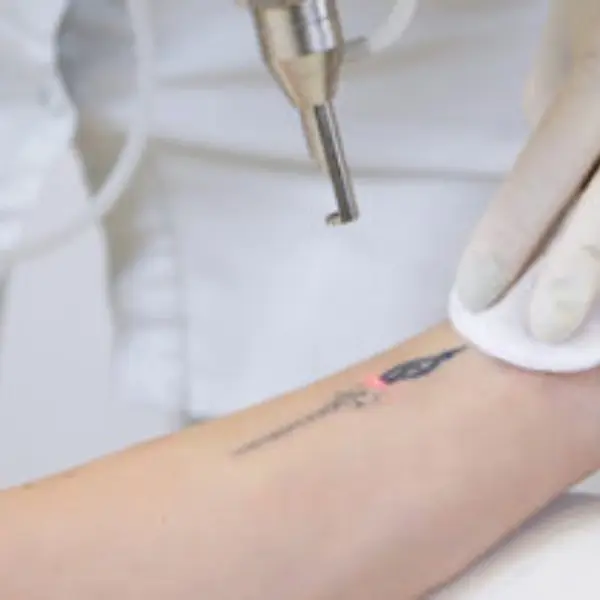 Tattoo Removal Treatment in Magarpatta / Kalyani Nagar, Pune
Are you looking for safe and painless tattoo removal in Pune? Or are you looking for the best dermatologist in Pune or the best dermatology clinic in Pune for tattoo removal? The Daily Aesthetic Clinic offers the safest and most painless tattoo removal in Pune. You can walk into the TDA clinic in the city closest to you, either Kalyani Nagar or Magarpatta City.
We all have the urge to get inked or tattooed in standard terms once in life. It can be anything you like to be inked on any part of your body. It's the easiest way to make a tattoo at some point, but removing it from the body is complex.
It is easier to remove Tattoos nowadays due to advanced laser technology. You will notice various methods that can help you remove the Tattoo. At The Daily Aesthetics, painless treatment is available to remove the Tattoo. The safest way to remove the Tattoo for any part of the body. Walk into the daily aesthetics clinic in Pune near Kalyani Nagar Magarpatta city. 
Laser Tattoo Removal Treatment In Pune
Removing tattoos using the laser method is the best and safest technique to get rid of that tattoo placed in a rage. Via alternate methods, you up the ante of exposure to health risks, which is not the case with the laser method. Though laser treatment techniques are more expensive than others, they are painless and have bloodless elimination, and their effectiveness represents their value. With the help of laser treatments, you can get rid of bigger, stronger, and more complicated tattoos without much pain.
The laser treatment method's mechanism entails using a targeted-high intensity light beam that breaks down the pigmentation or pigment colors making up the ink, resulting in a scar-free tattoo removal process. Tattoo removal treatment through laser depends on the colors of the tattoo. The black color gets removed simply because it absorbs the wavelengths of all lasers.
Therefore, it requires ease. Other colors are removed via laser treatment depending on the color of the pigmentations. The sessions are decided based on the size and color of the tattoo. Typically, this method takes 5-6 sessions. If you are planning tattoo removal treatment, consult our dermatologist in Pune.
Where in Pune can I get the safest and painless tattoo removal near Kalyani Nagar and Magarpatta city?
The daily aesthetics clinic is a well-known Non Clinic in Pune. Who provides the most painless and safe tattoo removal in Pune near you in the areas of Kalyani Nagar and Magarpatta? We've seen over 3,000 satisfied patients with the same case.
Is anybody at risk while using laser tattoo removal?
Most people can have laser tattoo removal done without risk. A couple of exceptions exist. The effectiveness of laser tattoo removal depends on your immune system. Women who are expecting or nursing should also not be treated.
Is laser tattoo removal painful?
Laser tattoo removal can be unpleasant or uncomfortable. A dermatologist might administer a numbing lotion or shot to you to prevent discomfort and anguish.
Why Choose The Daily Aesthetics clinic for Tattoo Removal Treatment in Hadapsar, Koregaon Park?
Here are some reasons why you should choose us for Tattoo Removal treatment in Pune, Kalyani Nagar, and Magarpatta City.
* Highly experienced and passionate Dermatologist Specialist in Pune for BB Glow Facial treatment.
* US-FDA-approved equipment and best treatment protocols
* Personalised patient care.
* Ongoing Support and Aftercare
* We are at Kalyani Nagar and Hadapsar (Magarpatta City). near Viman Nagar, Kharadi, Yerawada, Hadapsar, Malwadi, Mundhwa, and Camp.
Do you want to get a Tattoo Removal Treatment for yourself? If you are looking for Tattoo Removal Treatment in Pune or a dermatologist specialist for Tattoo Removal Treatment near me, then don't hesitate to contact us. For more information, call us at +91 96738 58066 / +91 97685 55421 Or walk into the Kalyani Nagar & Magarpatta City clinic nearest you.
Meet Our Dermatologist Specialist — Dr. Arshi Rahul
Tattoo Removal Treatment is a popular body procedure offered by The Daily Aesthetics under the expert care of Dr. Arshi Rahul. This innovative treatment is designed to enhance your body's natural beauty. Dr. Arshi Rahul's skill and expertise in this field ensure clients receive a customized and safe experience. Whether you're looking for Tattoo Removal Treatment, The Daily Aesthetics is the right choice.
On laser hair reduction, Bridal treatment package, advanced Hydrafacial Ritual, Hollywood facial, PRP treatments, and Anti-ageing treatments. 
What Are You Waiting For...
We believe in a transparent costing procedure with no hidden charges.
The medication provided by the doctor was extraordinary. She understood my problem and solved it in 3 days. Thanks doctor Neha Suryawanshi!