"Skin whitening treatments aim to lighten or brighten the skin's complexion, often through various cosmetic procedures or products."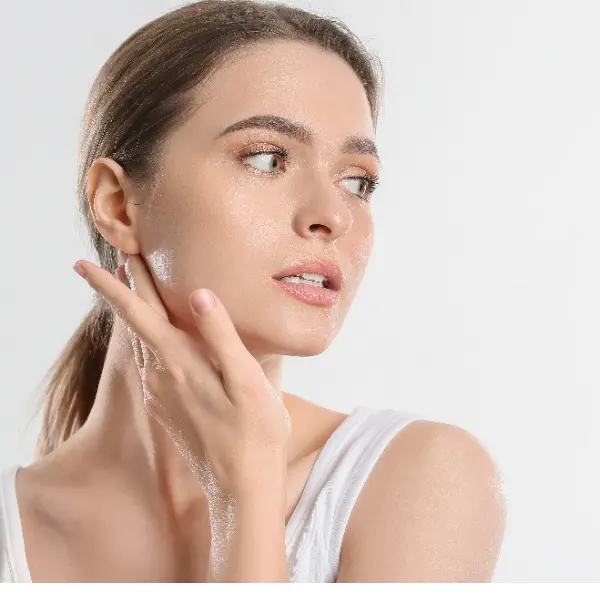 Skin Whitening Treatment in Kharadi / Kalyani Nagar & Baner in Pune
Are you seeking the best skin-whitening treatment in Kalyani Nagar, Kharadi  , and Baner, Pune? Or are you trying to find Kalyani Nagar,  Kharadi City, and Baner Pune's best dermatologist? The Daily Aesthetics, a reputable skin clinic in Pune is where your search ends.
Skin Whitening is a process that helps to reduce the melanin pigment within the skin to get you a whiter complexion post-treatment. Those with dark complexion have more melanin; therefore, the quantity of melanin determines the color of a person's skin. Melanin is formed by cells called melanocytes.
The melanin quantity of a person's skin depends upon the genetic build-up. Pigmentation is caused by exposure to the sun, the degree of damaged skin, and exposure to chemical products on the skin.
People take recourse to skin Whitening techniques to solve their skin problems like age, freckles, spots, scars, moles, acne, and birthmarks, and also by people who wish to own fair skin, especially those with a darker skin tone. People use lightening or whitening products like fading creams, bleaching creams, chemical peels, and
laser treatment.
Where can I get the best Skin Whitening Treatment?
What should you do if you're seeking the best skin-whitening treatment in Kalyani Nagar,  Kharadi City, & Baner in Pune? The Daily Aesthetics, or TDA, is a non-clinic in Pune in Kalyani Nagar and Kharadi City. Has a skilled group of the best dermatologists in Pune. Dr Arshi is a reputable dermatologist in Pune who has been actively practicing for over ten years.
Dermatology specialist Dr Arshi Rahul has provided non-surgical cosmetic care in Pune for over nine years. Her proficiency in non-surgical facial aesthetics, exceptional injector skills, and, most importantly, her drive to set the standard. In recognition of her work as a provider of laser procedures, The Ultimate Skin Care, and an anti-aging manual, she was given the "Best Skincare Expert' award by City magazine in 2016.
How is the Skin Whitening treatment In Pune & Pimpri Chinchwad done?
The first step towards a skin whitening procedure is to make an appointment with the best skin specialist or best dermatologist and tell them what skin tone you've got in your mind. To urge a more precise idea, you can carry an image of the person with the specified skin tone you have in mind. After discussing it with your dermatologist, you can show them your desired image. After consulting with the dermatologist or skin specialist, you choose.
Various Treatment Options For Skin Whitening at TDA Kalyani Nagar, Kharadi & Baner City.
There are Various treatments option are available that can be useful for brightening your skin. The most common treatments are as follows:
This Treatment involves the uses of various creams or serum. cream or serum uses with Bleaching agents will give you the appearance of brightening skin tone.
Try this treatment at home if you feel your skin need not whiten more. The only disadvantage of that treatment is that they give you results slowly.
Chemical Peeling treatment:
In this treatment, a Dermatologist or Skin specialist applies a chemical peeling solution on the face to remove all dead skin and other impurities.
Laser skin lightening or whitening is a standard laser procedure that uses higher energy of light to eliminate dead skin cells, and irregularly damaged skin stimulates new skin growth. Less time is required. It is fast, safe and helps you look younger and fresh. It's a complete clinical treatment done under skin experts only.
Tips to follow after the skin whitening treatment
Post-skin whitening treatment, we suggest washing the treated area with chemical-free soaps rather than genteelly dabbing and letting it dry. For your full recovery, we advise you to use certain maintenance products like regularly applying burn plant gel or petrolatum to provide a soothing and cooling effect. A layer of scabs and crusts may form on the treated area, so it's advised that you don't touch or pick these areas.
Skin Whitening Treatment Cost in Kalyani Nagar, Kharadi
& Baner city in Pune
Skin whitening treatment costs in Pune vary from Rs.2000 to Rs.10,000. Chemical peeling treatments will cost you Rs 1,500 per session, and laser treatment for skin whitening in Pune will cost Rs 4,000 to Rs 10,000.
The cost of skin lightening treatment is various factors, such as the type of treatment, the skin's area, and the skin's quality. Get Skin whitening cost at The Daily Aesthetics Clinic.
Why Choose The TDA clinic for Skin Whitening Treatment in Kalyani Nagar, Kharadi & Baner City in Pune?
Here are some reasons why you should choose us for skin Whitening treatment in Pune
* Best Dermatologist for Skin Whitening treatment.
* US-FDA-approved equipment and best treatment protocols.
* Personalised Service
* Ongoing Support
* We are at Kalyani Nagar, Baner as well as Hadapsar Kharadi City.
So, If you are Looking for the Best Skin-lightening treatment in Pune or Skin whitening treatment near me, Then Book an Appointment at The Daily Aesthetics Clinic. Today! For More Information please call us at +91 96738 58066 / +91 97685 55421 Or walk into Kalyani Nagar,  Kharadi & Baner located TDA clinic nearest you.
Meet Our Skin Specialist — Dr. Arshi Rahul
Dr. Arshi Rahul and The Daily Aesthetics Clinics have followed strict protocols for skin treatments like skin Whitening in Pune (Kalyani Nagar, Kharadi City & Baner for over ten years. She has treated thousands of clients using technologically advanced Skin Whitening Treatments. That is why Dr.Arshi Rahul is among the best skin specialists in Pune & Pimpri-Chinchwad for Skin Whitening Treatments.
On laser hair reduction, Bridal treatment package, advanced Hydrafacial Ritual, Hollywood facial, PRP treatments, and Anti-ageing treatments. 
What Are You Waiting For...
We believe in a transparent costing procedure with no hidden charges.
Dr. Arshi is very polite and cooperative. She listens to your concerns and provide answers with explanations. The staff is also very friendly. Have been visiting TDA for 3 months now and the experience is wonderful.