Welcome to The Daily Aesthetics
The Daily Aesthetics only uses high-end technology, ensuring our patients experience the least discomfort & receive the best results.
Leading Skin Specialist And Dermatologist In Pune & Pimpri-Chinchwad
The best of our services In Pune & Pimpri-Chinchwad
The Daily Aesthetics in Pune offers top-notch dermatological services, specializing in Laser Hair Removal, Hair Loss Treatment, Hydra Facial, Pigmentation Correction, Skin Tightening, Bridal Treatments, and Semi-Permanent Solutions, ensuring clients achieve their skin and beauty goals with expertise and care.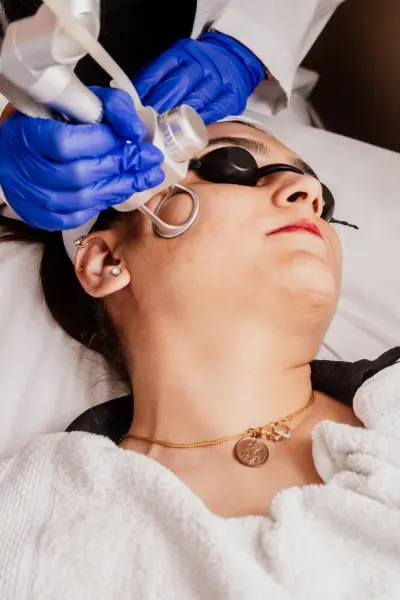 Hydra Facial is a rejuvenating skincare treatment that deeply cleanses, exfoliates, and hydrates the skin. It's a non-invasive procedure that leaves your skin looking radiant and refreshed.
Specializes in effective hair loss treatments, addressing various causes of hair loss to help patients regain fuller and healthier hair.
Although the procedure is often touted as a form Of"permanent" hair removal, laser treatment only reduces the number of unwanted hairs.
Want to make booking or have a question?
Call us or simply book an appointment
A Full Range Of Aesthetic Services
The Daily Aesthetics only uses high-end technology, ensuring our patients experience the least discomfort and receive the best possible results.
Active breakouts are frustrating enough, but the scars acne can leave behind can feel downright diabolical. The good news is that acne scars can be Treated
The clinic provides BB Glow Treatment, a semi-permanent makeup technique that enhances the skin's appearance by improving complexion, reducing blemishes, and giving a natural, glowing finish.
We're dedicated to making you truly feel like a movie star during your bridal journey! The months leading up to a wedding.
Tattoo removal can be achieved in a number of ways. ranging from laser treatments. chemical peels. dermabrasion and surgical excision,
Extremely happy by the diagnosis give by Dr. Neha. I have acne issue & by taking only 1st session, I start seeing the result. The staff here is also very polite. Really pleased with this😊Keep up the good work Dr. Neha And staff 👏🏻. Would highly recommend Dr. Neha to anyone with any skin problem.
What Are You Waiting For...
We believe in a transparent costing procedure with no hidden charges.
On laser hair reduction, Bridal treatment package, advanced Hydrafacial Ritual, Hollywood facial, PRP treatments, and Anti-ageing treatments.