Laser hair stimulation promotes hair growth by using low-level laser therapy.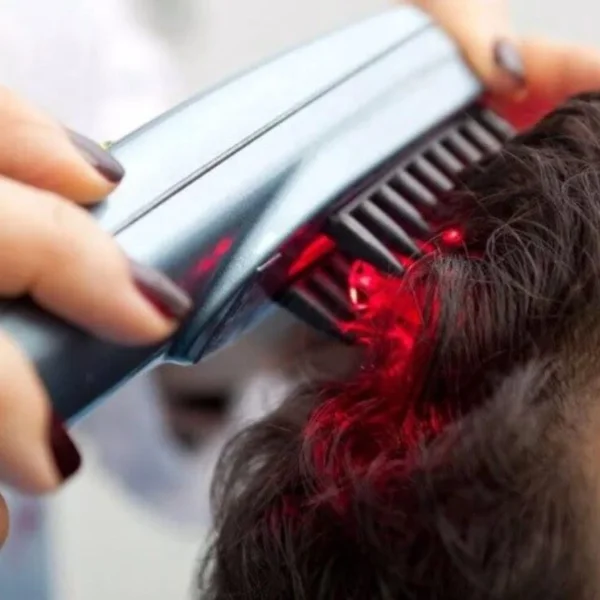 Laser Hair Stimulation in Kharadi / Kalyani Nagar, Pune
Are you searching for the best laser hair stimulation therapy in Kalyani Nagar and Kharadi, Pune? Or are you searching for the best dermatologist in the area of Kalyani Nagar and Kharadi in Pune? The Daily Aesthetic Skin Clinic is a premier hair clinic in Pune that locals there highly recommend.
Although it's often related to removing bodily hair, Laser Hair Therapy is becoming increasingly popular as a medical treatment for hair loss. The laser program suits those who have hair loss on a diffused scale to those experiencing a receding hairline or thinning of hair.
What is Laser Hair Stimulation?
Low-level Laser hair therapy is a safe, non-invasive and clinically proven treatment for exciting hair follicles to grow fuller and thicker hair. Also called red light therapy, the facility clinical-strength laser devices treat hair loss, male pattern baldness and alopecia for both males and females.
Laser stimulation for hair is widely considered a more secure procedure than hair transplants. Treatment with Low-level Laser Therapy The laser lights used on a coffee level, which irradiates photons into the human tissue, help them absorb weaker cells so that they can revive their strength.
After this is going on, the cells are given the chance to regain functionality, returning to their regular processes like hair growth. To help new growth and also the maintenance of existing hair, this treatment increases blood flow to the scalp, something which Minoxidil further assists.
Where can I get the best Laser Hair Stimulation in Pune nearby Kalyan Nagar or Kharadi city?
Find The daily aesthetic clinic in Pune is located in the areas of Kalyani Nagar and Kharadi City. We are also near Koregaon Park, Viman Nagar, Kharadi, Yerawada, Hadapsar, Malwadi, Mundhwa, and Campare, where you may find us. That is closest to you. More than 1800 patients who were struggling with hair loss received treatment from us using laser hair stimulation therapy. We have a team of skilled dermatologists in Pune with more than 10 years of experience.
How does Laser Stimulate Hair Growth?
Laser hair stimulation in Pune works by stimulating cellular activities in your hair follicles to slow down and reduce hair loss by supporting re-growth. This technology is widely used as it has no side effects, is painless, is safe and FDA approved, effective and simple, and the result is the best. Please find us at the Kalyani Nagar & Kharadi city location at the TDA clinic for a detailed conversation.
Why Do People Choose Laser Hair Stimulation In Pune?
Most people will lose 100 hairs from the scalp every day, but most of those grow back. However, certain circumstances result in situations such as scarcity of hair regrowth, including Age, Medical conditions, Side effects of medical treatment, Poor nutrition, and Stress.
While there are various treatments to market hair growth, like medications and hair transplants, laser hair therapy is taken into account as a decent option for several. It's a Non-invasive, Painless treatment without side effects. The unique way increases the strength of your hair.
Does Laser Hair Therapy Really Work?
As with all procedures, whether Laser Hair Therapy works or not is additionally passionate about the individual. Results will vary from client to client, with some seeing hair growth quite quickly whilst others may need to wait for some time. In some cases, clients may need to wait up to 26 weeks after receiving the treatment so as to determine results.
Consistency is the key to creating laser hair treatments. We promise we will give your hair a stronger chance of growing. The sooner you begin your treatment, the more you will be happy as hair that completely stimulates you again.
It is important to recollect that the treatment won't necessarily work for everyone. For those with hereditary conditions or Alopecia, this hair stimulation treatment has more impressive results. On the other hand, those with little to no hair are unlikely to learn from laser hair stimulation. You will be informed during your consultation.
For one conversation, walk into The Daily Aesthetics clinic in Pune, Located at Kalyani Nagar and Kharadi city nearest you.
Hello, I'm Sneha. I have been at The Daily Aesthetics clinic, "Laser hair stimulation is the perfect solution for anybody looking to regain their natural hairline and thicken their existing hair. The treatment is non-invasive and pain-free. It's just a matter of sticking to the program to ensure the most effective possible results.
Whether you're suitable for laser hair stimulation or not, a hair care professional at The Daily Aesthetics Clinic will take you through all the choices available to you to make sure you get the most effective treatment. By assessing the possibilities of success for regrowing hair, our team will get you begun to cause you to feel happy about your hair again."
If you're considering getting Laser Hair Stimulation or other Hair treatment in Pune, contact a member of our experienced team today at 9768555421 and book your consultation. For more details visit us at www.thedailyaesthetics.com.
Why Choose The Daily Aesthetics clinic for Laser Hair Stimulation treatment?
Here are some reasons why you should choose us for Laser Hair Stimulation treatment in Pune.
Highly experienced and passionate 

Skin Specialist in Pune for Laser Hair Stimulation treatment.

US-FDA-approved equipment and best treatment protocols

Personalised patient care.

Ongoing Support and Aftercare
We are at Kalyani Nagar as well as Hadapsar (Kharadi City). We are also near Koregaon Park, Viman Nagar, Kharadi, Yerawada, Hadapsar, Malwadi, Mundhwa. Compare where you may find us.
If you want to get the best Laser Hair Stimulation treatment in Pune? If you are looking for Laser Hair Stimulation treatment in Pune or a skin specialist for Laser Hair Stimulation treatment near me, then don't hesitate to contact us.
 For more information, you can call us at +91 96738 58066 / +91 97685 55421 Or walk into Kalyani Nagar & Kharadi City is located at The Daily Aesthetics clinic nearest you.
Meet Our Hair Dermatologist — Dr. Arshi Rahul

The Daily Aesthetics in Pune offers state-of-the-art laser hair stimulation services for those struggling with thinning hair and hair loss. Led by dermatologist Dr. Arshi Rahul, this clinic specializes in using advanced laser technology to stimulate hair growth and improve the overall health of the scalp. With years of experience and expertise in the field, Dr. Rahul and his team provide personalized treatment plans to address each patient's unique needs and concerns. From consultation to treatment, the staff at The Daily Aesthetics ensures a comfortable and effective experience for their clients. Say goodbye to hair loss and hello to fuller, healthier hair with the help of expert laser hair stimulation services at The Daily Aesthetics in Pune.
On laser hair reduction, Bridal treatment package, advanced Hydrafacial Ritual, Hollywood facial, PRP treatments, and Anti-ageing treatments. 
What Are You Waiting For...
We believe in a transparent costing procedure with no hidden charges.
So I am visiting the daily aesthetic from past 7/8 months. And am doing my laser session with Dr Vaishnavi and I can see the changes in my growth. The clinic is well hygienic and the staff is very good. I'll highly recommend it to everyone. thank you, TDA.